Exceptional Spider Vein Treatment in Truckee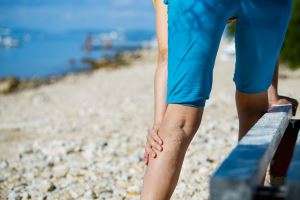 Our expert staff wants to use our premier spider vein treatment in Truckee to help you reclaim your youthful confidence and to feel sexy going out in your little black dress again!  Every woman enjoys a night on the town in her little black dress. But what if wearing your LBD causes you to cross your legs under the dinner table and hope no one can see the deep lines on the backs of your legs? Having conditions like spider veins can cause lack of confidence and have you even avoiding certain clothing or events.
What Are They?
Thirty to 40% of women and about 20% of men complain about spider veins. They are like varicose veins but smaller and closer to the surface of the skin. They are red or blue and often look like the branches of a tree or a spider web with thin, short, jagged lines. Spider veins are usually found on the face and legs and can cover either a very small or very large area of skin.
Main Causes
Sun exposure– can cause spider veins on the cheeks or nose of people with fair skin
Genetics– if family members have vein problems, you are much more likely to suffer
Hormonal changes– birth control pills and other medicines with estrogen and progesterone can contribute to spider veins. During pregnancy, a major increase in blood flow can also cause veins to enlarge, with more spider veins appearing with each pregnancy
Inertia– standing or sitting for long periods puts more pressure on your veins while they pump blood to the heart
Weight– obesity also puts extra pressure on the veins
Age– the valves in your veins weaken as you get older
Remove Unsightly Veins in Lake Tahoe
Start your spider vein removal today.  Two sessions spaced at six to eight week intervals are usually required to complete laser treatment for spider veins.  Call our Truckee office at 530-536-5004 to start the process.  We proudly serve the Lake Tahoe area, including Incline Village, Tahoe City and South Lake Tahoe.