Skilled Laser Tattoo Removal in Truckee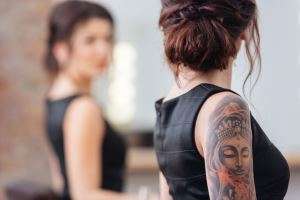 We at Pure Life Medical Spa in Truckee believe that we should have a choice over what is on our body, even if it means we change our minds later. Let our skilled staff help you reverse time and erase your unwanted tattoos using laser tattoo removal.
Laser Tattoo Removal is the latest technological advancement for removing unwanted tattoos. The previous methods of tattoo removal often left messy ink behind or a horrendous scar. Lasers are much more effective and, in most cases, eliminate the body art with minimal discomfort.
How it Works
Lasers target the ink and light waves are used to remove the ink. Different wavelengths are used to target specific colors in your tattoo. Because of this ability to remove colors selectively, laser tattoo removal is safer than many other traditional methods, such as dermabrasion, where the tattoo is abraded with salt water. Laser tattoo removal is also a relatively quick process.
It's Safe-This process has been done for years and it is much safer than previous methods used.
It's Efficient– With only a few repeat sessions needed for most ink, this process is quick and relatively
pain-free with minimal follow-up care.
It's Permanent– Lasers can remove most tattoos completely.  Speak with our technicians to learn more about the process. During a consultation with our expert staff, you will talk about what a session using laser tattoo removal is like, as well as what types of lasers may be used for your individual tattoo.
The type of laser and length of time it will take will depend on:
Where the tattoo is on your body
How old it is
The tattoo's color
Your personal skin type
Whether the tattoo is a professional or amateur job
How deep the pigment goes into your skin
Remove Your Unwanted Tattoos in Lake Tahoe
Whether your tattoo is large or small, it may require more than one treatment. After each treatment, the tattoo will appear progressively more faded. An office visit for laser tattoo removal usually involves:
A skin test to determine the right energy level for your treatment
Protective eye shields so the laser waves do not affect your eyes
A device being placed against the tattoo
More pulses for large tattoos than smaller tattoos
In many cases, removing a tattoo can be life changing.  People from all over visit our med spa, including Tahoe City, Incline Village and South Lake Tahoe.  Call us at 530-536-5004 to make your appointment at our Truckee office and be on your way to changing your life.