Expert Kybella Injections in Truckee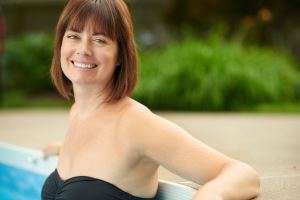 We at Pure Life Medical Spa truly believe each of our clients are beautiful and it is our sincere joy to help you reclaim your youthful appearance so that your outer beauty can match the inner beauty we already see in you.  If you've ever caught yourself doing one of the following, a double chin treatment in our Truckee office may be right for you.
Ever asked someone to delete a picture they took with you in it after you were embarrassed of how your face appeared?
Ever caught yourself raising your cell phone high in the air to attempt to take a selfie that doesn't accentuate your double chin?
What Causes a Double Chin?
It isn't what many of us think. There can be several variables involved, but a double chin is typically caused by one or a combination of the following:
Aging-Losing elasticity and skin volume in the area below our natural chin can cause sagging skin to appear as a double chin.
Genetics-Research proves that many families tend to store more fat than average under their chins, proving a genetic predisposition to this trait.
Obesity-An excess of weight or a rapid loss of weight can also cause the appearance of excess skin below the natural chin.
Why Choose Kybella?
Each treatment session only takes 15 minutes, so our patients can immediately return to their normal activities. A series of tiny injections are made into the chin area. Following the injections, over a course of a few days, the fat cells rupture and the fat is slowly absorbed into the body. Results begin to become apparent after a few weeks.
Most people will need three to six treatment sessions, with about a month between treatments, to reduce their double chin. The treatment permanently removes the fat cells, and will not need to be repeated again in the future.
Double Chin Reduction in Lake Tahoe
Kybella is the only minimally invasive treatment available today to treat a double chin. Double chins tend to be highly resistant to diet and exercise, and therefore cannot be treated through self-help methods.  Kybella is permanent and will not need to be repeated again in the future. Slimming of the jawline can restore a more youthful, balanced look to the face.  Our med spa serves the entire area, including Incline Village, South Lake Tahoe and Tahoe City.  Call us at 530-536-5004 to reclaim your youthful profile.